T
he second half of the 19th century saw a great many educational institutions established in the expanding city of Buffalo. Among them, the private University of Buffalo, Buffalo Seminary, St. Joseph's Collegiate Institute, the State Normal and Training School, and a small undertaking created to aid and instruct the Deaf. Since the early days of what is now known as St. Mary's School for the Deaf, the institution has been a beacon of hope and inspiration, with a rich and diverse history.
Dr. Edward Miner Gallaudet, founder and President of the prestigious Gallaudet College in Washington, D.C., presided over a national convention of American Instructors of the Deaf at the school. When Buffalo hosted the Third World Congress of Educators of the Deaf, St. Mary's was presented with a bronze monument by deaf sculptor and St. Mary's alumnus, Eugene A. Hannon, that still welcomes visitors to the school's current Main Street campus.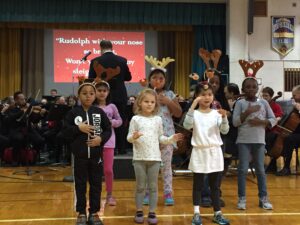 As St. Mary's School for the Deaf moves into the 21st century, new programs, facilities, resources, and partnerships continue to be implemented. During this recognition of Deaf History Month, the Buffalo Philharmonic Orchestra is proud of our relationship with St. Mary's. For over 20 years, the BPO has been performing an annual holiday concert at St. Mary's School for the Deaf, which includes the school's Sing & Sign Chorus performing alongside the BPO. This event is much anticipated by the BPO musicians, as well as the students and community members at St. Mary's. The BPO is pleased and privileged to honor St. Mary's School for the Deaf this month, and for many more seasons.