Neighbor to Neighbor
Bringing the BPO to our communities
In partnership with service organizations, small groups of BPO musicians performed outdoor concerts in underserved neighborhoods this summer
The Buffalo Philharmonic Orchestra partnered with service organizations throughout the city to bring small ensembles of musicians to perform outdoor pop-up concerts this summer, with the goal of embedding musicians directly in communities that may not otherwise have the opportunity to experience symphonic music or attend a performance at Kleinhans Music Hall.
Each partnering service organization acted as host for these performances, connecting the populations they serve with the BPO's musical offerings. These organizations provide a wide range of educational offerings, job training, youth and family programming, and meal service to community members.
Read more about each of these special community performances below.
The Belle Center
July 9, 2021
What better way to kick off our inaugural Neighbor to Neighbor concert than in our home neighborhood! The Belle Center has been providing programs and services to the West Side community for over two decades. The center graciously hosted the BPO Brass Quintet on July 9th for a program of fanfare and familiar favorites.
Children and teens from the center's summer youth programs laid out their blankets and sat wide-eyed as BPO musicians talked about their personal musical journeys in school, and demonstrated how they buzz their lips to make sounds through their instruments. Despite the unpredictable Buffalo weather moving the performance indoors, members in the surrounding community joined us in celebrating the return to live music and much fun was had by all!
Many thanks to Belle Center Executive Director, Lucy Candelario, Jack Norton, and all staff members for hosting us. We are honored to have had the opportunity to partner with The Belle Center and look forward to continued collaborations with our West Side neighbors!
You can find out more about The Belle Center and the community they serve at thebellecenter.org.
Seneca Street Community Development Corporation
July 30, 2021
This summer has been one of celebration, as BPO musicians joined in the festivities at Seneca Street Community Development Corporation, in recognition of their Summer Reading Camp graduates. Located in the Seneca Babcock community of South Buffalo, Seneca Street CDC provides learning spaces and healthy food to families and children, in addition to free after-school and teen programs for students K-12, offering tutoring, mentoring, and clubs and activities.
Graduates and their family members were treated to ice cream and a sweet serenade from BPO violinists Xiaofan Liu and Clement Luu after their graduation ceremony. Our musical journey took us on a trip through the countries of Poland, France and Russia, prompting the kids to ask when we are coming back to play music from all fifty states! (We'd love to!) Beautiful Buffalo weather made for a sunny outdoor performance where the children danced and grooved along to the rapid rhythms from our violinists. The day culminated with all graduates being gifted a new backpack full of school supplies!
Our most heartfelt thanks to Seneca Street CDC Executive Director, Cheryl Bird and all the staff and volunteers for letting us be part of their special day!
You can find out more about Seneca Street Community Development Corporation and the community they serve at senecastreetcdc.org.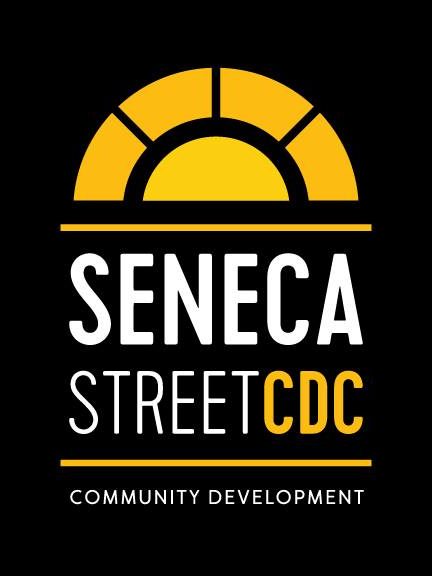 Grace Guest House
August 5, 2021
Our pop-up community concerts continue this summer as we traveled to Grace Guest House in South Buffalo for a morning of peace and serenity, provided by BPO violinists Xiaofan Liu and Clement Luu. Grace Guest House supports patients and their families by providing a haven and place of respite when receiving care at regional healthcare facilities. We also welcomed OLV Human Services Early Childhood Programs' little listeners from the neighboring St. John's Parkside preschool. The front lawn was filled with children, guests of Grace and community members, who were treated to donuts and beautiful music in the sunshine. Children cheered as BPO musicians showed them the parts of the violin and how they make sounds on their instruments. Audience members were treated to a special encore from the violin duo showcasing the virtuosity of our musicians as a frenzy of notes floated on the warm breeze!
It was a true pleasure to perform at Grace Guest House. Our most sincere thanks to Grace Guest House President & Executive Director, Cynthia Battista, Associate Director Andrea Capodagli, and the staff for hosting us. Additional thanks to Tom Lucia and Amy Tassini with OLV Human Services for joining us in collaboration to bring music to their Early Childhood programming. It was a beautiful day to enjoy the music!
You can find out more about Grace Guest House and OLV Human Services and the communities they serve at graceguesthouse.org and olvhumanservices.org.
Buffalo & Erie County Public Library
August 10, 2021
Our violin duo wrapped up their summer tour with a tranquil performance at the downtown Central Library in the heart of Buffalo. The scorching heat drove us indoors to serenade patrons as they enjoyed a cool respite amid the bookshelves. Music echoed through the library, drawing in readers and passerby alike to take in the melodies and artistic flair provided by BPO violinists Xiaofan Liu and Clement Luu. Spectators were treated to encore performances of two frenetic pieces that showcased the brilliance and virtuosity of our talented musicians.
Much appreciation and thanks to Anne Conable, Manager, Community Engagement and the staff at the Central Library for hosting us and opening up musical opportunities to all members of the community. A welcome surprise during a trip to the library indeed!
You can find out more about programs and offerings for all libraries in the Buffalo & Erie County Public Library system at buffalolib.org.
Spirited Athletes Bold at Heart (SABAH)
August 13, 2021
A special group joined us for our rescheduled 6 in 6 Concert series with Olmsted Parks Conservancy in Riverside Park. Spirited Athletes Bold at Heart (SABAH), whose headquarters are housed right in Riverside Park gathered as a group to watch the BPO Brass on yet another sultry summer evening. The upbeat, familiar tunes had concertgoers tapping their feet to the music and our performance of the Armed Forces Medley gave the audience the opportunity to stand and thank servicemen and women from all branches of the military. The culminating Sing, Sing, Sing even had SABAH members out of their seats dancing!
A special thank you goes out to Sheila O'Brien, Executive Director of SABAH and all the staff, volunteers, and family members that joined as our honored guests for the evening. It was an absolute joy to see so many smiling faces in the audience!
You can find out more about Spirited Athletes Bold at Heart and the individuals they serve at sabahinc.org.